Socialist luvvy Rep. Alexandria Ocasio-Cortez has gone into full-blown lefty toddler meltdown after Elon Musk mocked her in a Tweet last month.
She's so fuming about Musk's comments – and presumably, his public announcement that he would be switching his vote to Republican from now on didn't help – she says she wants to swap her $46,990 Model 3 Tesla with a different electric brand of car:
"At the time, it was the only EV that could get me from New York to Washington on like one, or one-and-a-half charges," she told Bloomberg. She had bought the car to travel between her district in Bronx-Queens and Washington during the Covid pandemic in 2020.
"I would love to switch," said the Green New Deal-backing Democrat, saying she would only consider buying Ford's huge F-150 Lightning truck or a Chevy Bolt.
AOC claimed her sudden change of heart about owning a Tesla was because she wanted to support a manufacturer with a unionized production line. Still, many have questioned the coincidental timing of her announcement.
Mocking AOC's Tweet last month in which she said she was "tired of having to collectively stress about what explosion of hate crimes is happening because some billionaire with an ego problem unilaterally controls a massive communication platform," Musk jokingly responded with "Stop hitting on me, I'm really shy."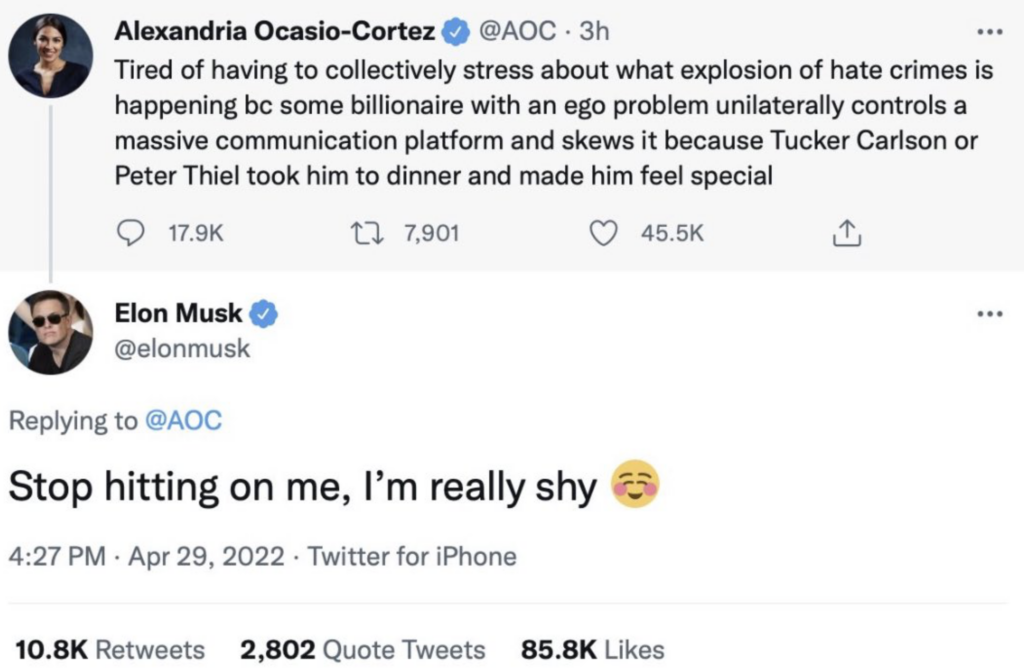 Musk's comment was a tongue-in-cheek response to Ocasio-Cortez's previous claims that her critics want to date her:
"If Republicans are mad they can't date me they can just say that instead of projecting their sexual frustrations onto my boyfriend's feet," she embarrassingly remarked. Read more